Managed IT services are crucial for any organization handling sensitive client information, especially in the healthcare industry, where patient data security is paramount. Outsourcing managed IT services can help healthcare organizations optimize patient care, and strictly comply with HIPAA regulations. In addition, by allowing experts to manage their IT needs, healthcare providers can focus on delivering quality healthcare services to their patients with the peace of mind that their data is secure and protected.
Partnering with reliable healthcare managed service providers can help to streamline operations and enhance security measures. Rather than being hesitant about delegating responsibilities to outsiders, working with trusted MSPs can lead to increased efficiency and significantly reduce the risk of data breaches.
MSPs provide a critical service to medical centers and other healthcare providers by taking on the complex responsibility of managing their IT infrastructure. It allows healthcare professionals to focus on their core responsibilities while IT experts ensure that their systems are efficient, organized, secure, and compliant. IT Support 24/7 experts specializes in providing reliable managed services to healthcare organizations.
Managed IT services are indispensable for healthcare professionals for various reasons. Here are the top six.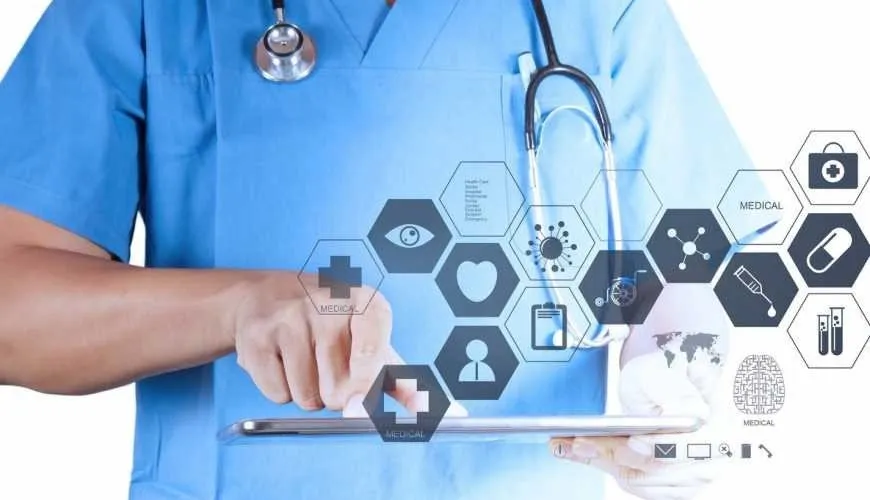 6 Reasons Why Managed IT is Critical for Healthcare
1.   Better Business Continuity
In an emergency or a disaster, no healthcare organization wants to risk losing critical medical data. Fortunately, partnering with an MSP can provide the necessary safeguards to ensure business continuity. In addition, by conducting a comprehensive assessment of risks and threats, an MSP can recommend proactive solutions to protect valuable information.
Furthermore, they can ensure the availability of HIPAA-compliant failover systems and off-site backups, allowing for seamless operations during natural calamities or cyberattacks. With an MSP's expertise, healthcare organizations can have peace of mind knowing their data is secure and their functions can continue uninterrupted.
2.   Control over IT Costs
Managing IT systems and infrastructure can be costly due to high capital expenses associated with hardware such as servers and workstations and the need for regular maintenance and upgrades. In addition, unscheduled downtime can also cripple an organization, leading to significant financial losses. However, there is a solution to these challenges- operationalizing your IT through healthcare managed services can help immensely reduce infrastructure and maintenance costs and prevent unscheduled downtime.
With healthcare managed IT services, your IT systems will be managed and monitored by experts, allowing you to focus on your core business operations. Opting for managed services can also increase productivity, improve performance, and better security for your IT systems.
3.   Improve the Patient Experience
A well-managed IT infrastructure is crucial for healthcare providers in reducing stress and ensuring continuity. Knowing that technology will work seamlessly when needed provides a sense of peace of mind. By preventing downtime, patient care is not disrupted, and practitioners can easily retrieve EHRs, avoiding delays in treatment, appointments, or tests.
A reliable IT service provider empowers healthcare providers to focus on delivering high-quality patient care, leading to an improved patient experience. This peace of mind and seamless workflow ultimately transform the quality of care that patients receive and enhance the overall healthcare experience.
4.   Easier Record Keeping and Access
Healthcare providers leverage the latest technology to streamline their services and tools, increasing efficiency and effectiveness. Healthcare professionals can stay connected seamlessly across different platforms by adopting electronic health records (EHRs), electronic billing software, and online access to various other tools. EHRs allow for mobile patient portals, interconnectivity between different EHRs, and the ability to instantly share patient records, making healthcare delivery faster and more convenient.
Electronic billing software is essential for healthcare providers as it streamlines the revenue cycle management system, thereby reducing errors and increasing revenue. In addition, with easy access to information, you can improve the efficiency of your billing processes. However, the effectiveness of the software largely depends on your managed service provider, who plays a crucial role in supporting and protecting your suite of tools.
5.   Utilize the Latest in Cloud Technology
Cloud technology has transformed patient data storage, sharing, and analysis. With an efficient cloud-based storage system, healthcare it managed services can save valuable time and resources, making sharing and interpreting data easier. Reduce the headaches associated with traditional storage methods and embrace the benefits of cloud technology in healthcare.
Migrating to the cloud and safeguarding cloud-based data can be complex and daunting. That's why organizations in the healthcare industry prefer to trust managed service providers for these critical functions. With their expertise and experience, MSPs can efficiently manage cloud migration and data protection, leaving healthcare organizations to focus on their core business objectives.
The healthcare industry is increasingly shifting towards the cloud to enhance patient experience. With cloud hosting, healthcare providers can securely share patient information across multiple centers or organizations, leading to a more comprehensive understanding of a patient's health. It enables healthcare professionals to provide a holistic healthcare experience, ultimately improving patient outcomes.
6.   Better Compliance
The healthcare industry is highly sensitive as it deals with public health and involves many patients' confidential information. Any unauthorized access to such data can cause severe harm. To ensure patient protection, regulating bodies have implemented strict laws such as the Health Insurance Portability and Accountability Act (HIPAA) and other data protection and privacy regulations. Such laws safeguard patients' privacy and ensure their personal information remains confidential and secure.
With managed IT services for healthcare, you can rest assured that your facility is always up-to-date with compliance regulations. Their sole focus on IT allows them to manage and maintain your systems to ensure compliance easily. This frees up your time and resources to focus on what matters – providing top-notch patient care.
Conclusion
Healthcare providers need reliable and efficient technology solutions to ensure seamless operations, protect patient data, and comply with industry regulations. Managed IT services are the solution to these challenges. With 24/7 support from MSPs, healthcare networks can rest assured that their technology needs are being met at a fraction of the cost of an in-house team. In addition, MSPs can help maintain regulatory compliance, ensuring you're always up to date with the latest industry standards.
Are you looking for reliable and efficient IT solutions for your healthcare organization? Look no further than our top-tier managed IT services. Get in touch with our Managed IT Services experts today to learn more about how we can help streamline your operations and maximize your productivity.